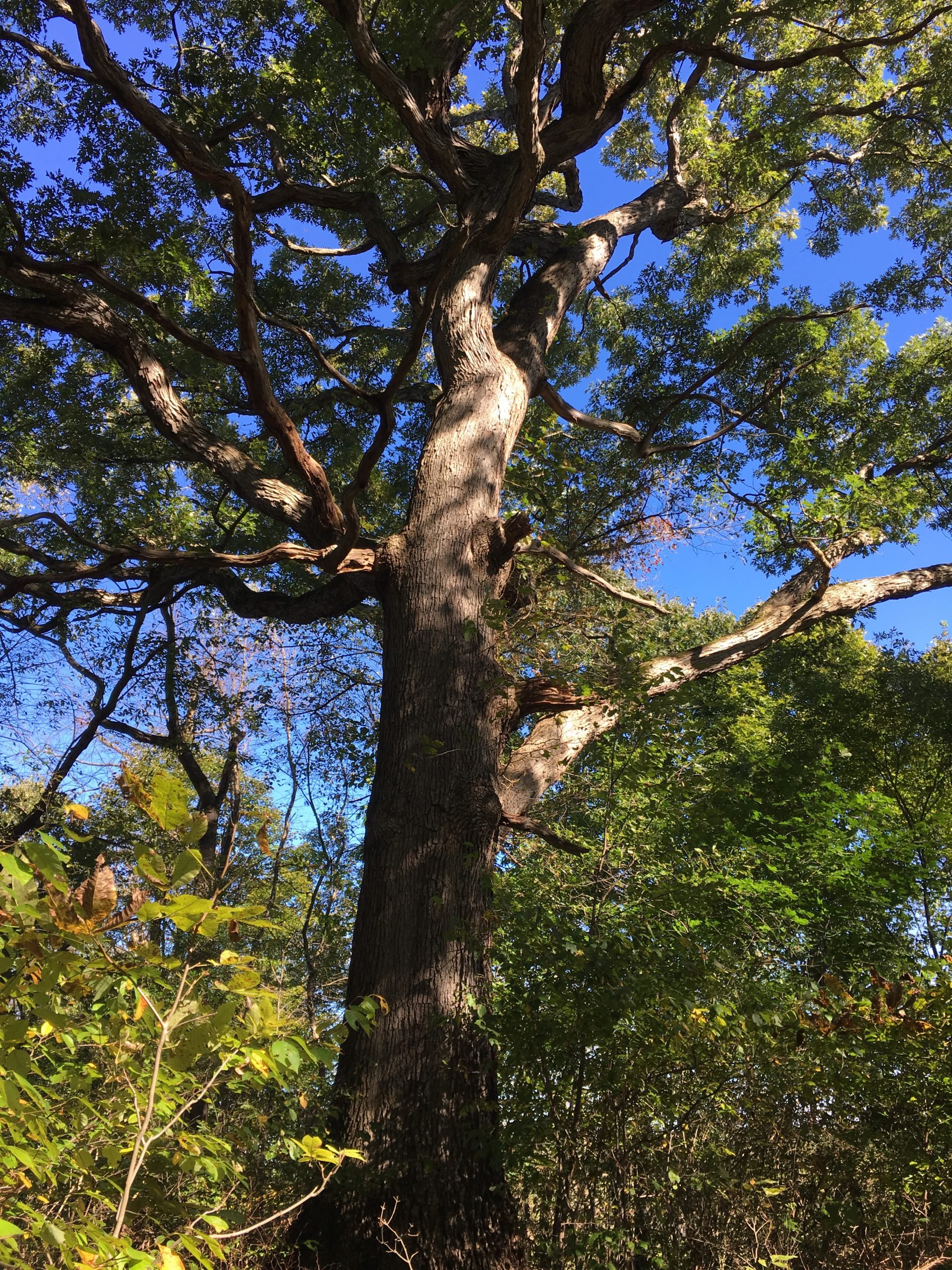 Unless you live in the area (a town called Buena Vista), you probably have no idea it exists. That green patch epitomizes a new type of small, hyperlocal carbon offset project designed to create significant social, environmental, and economic benefits for its community. We at Cloverly are proud to be this project's first buyer—and we hope to encourage many more like it.
The Buena Vista Heights Preservation Project covers slightly less than 124 acres. It's an "avoided conversion" project; it prevented this pocket of urban woods from being converted into a housing development. Its 13,966 carbon offsets represent the estimated 13,966 metric tons (15,395 US tons) of carbon dioxide or equivalent greenhouse gases that clearing the trees would have released into the atmosphere from 2020 through 2022. (For details about carbon offsets, click here. To learn how Cloverly uses them, see our How It Works page.)
The Key Players
The forest sprouted on its own after agricultural use of the land ended in the mid-1970s. To explain why it represents such an innovative concept in carbon offsetting and why we're so excited about it, we need to introduce three key players: Allegheny Land Trust, Bluesource, and City Forest Credits.
Allegheny Land Trust is a nonprofit organization that protects natural land in the Pittsburgh area. Since its founding in 1993, it has saved more than 2,700 acres of green space across 31 municipalities. It bought the Buena Vista property from the housing developer, added an extra layer of protection via a deed restriction barring the cutting of trees, and owns the carbon offsets. (This is the first time it has used offsets, also known as carbon credits, to help fund a project.) The trust plans to let the forest develop naturally with minimal intervention.
Bluesource, a full-service climate action consultant and longtime Cloverly partner, provided the carbon expertise. For clients like Allegheny Land Trust, which are experts in their own field but newcomers to the world of carbon markets, Bluesource helps with the offset aspects of a project from the conceptual stage all the way through to the marketing of the offsets. "Bluesource only makes money if we're successful," said Ben Massie, vice president of environmental markets. "We only get paid if we successfully monetize the credits for them."
City Forest Credits is a nonprofit carbon registry that verifies and tracks carbon offset projects. The big 3 US registries—the American Carbon Registry, Verra, and the Climate Action Reserve—handle a wide variety of projects, from improved forest management to landfill gas capture. In contrast, City Forest Credits devotes itself to the specialized niche of urban forestry, promoting projects that plant new trees or preserve existing ones. That's a fairly new carbon offset category that has had trouble gaining traction. City Forest Credits was founded in 2015. Buena Vista Heights is only the third active urban forest preservation project in its registry.
Small but Mighty
Why have urban forestry carbon projects struggled? Because they're small and locally focused—the same reason that they're now beginning to earn attention from a new wave of selective buyers in the carbon offset market, like Cloverly.
"Most traditional forest carbon projects are a minimum of 5,000 acres, and they go up to hundreds of thousands of acres," said Bluesource's Massie. Such a big project can avoid or sequester a lot of carbon emissions. Many project developers figure that a much smaller urban project, with a consequently smaller carbon-fighting impact, isn't worth their time.
Cost is another issue. Big projects produce lots of carbon credits, so the per-credit price is low. Small urban forest projects have to charge 2 or 3 times the usual rate in order to be viable. Buyers of carbon credits have been reluctant to pay.
But market demand is starting to shift. It helps that urban forest projects fit into what's called the voluntary carbon market—where people buy carbon credits voluntarily and often consider factors other than price. (The other carbon market is the compliance market, where corporations and other large entities purchase credits to comply with "green" regulatory requirements. There, the bottom line usually rules.)
"In the voluntary market, buyers want projects that they can connect with," Massie said. "And so, while it might be the most carbon efficient to develop a hundred-thousand-acre project, if buyers are asking for something different, then we want to develop projects and create emission reductions that the market is demanding."
Location, Location, Location
Why do buyers connect so strongly with "little" projects like Buena Vista Heights? For 2 reasons: location and co-benefits.
Helping to save the Amazon rainforest is great for the planet, but you'll likely never see the trees you're protecting. However, if you live in Western Pennsylvania, then opting to neutralize the carbon cost of shipping from a Cloverly ecommerce partner might affect you much more personally.
We try to use the closest offset to the shipping destination. So the offset for your Western Pennsylvania delivery might be the Buena Vista Heights Project. You might live nearby, or have friends who do. You'll be helping to improve your own little corner of the world as well as fighting climate change on behalf of the entire planet.
"In our offset portfolio, we'd love to include at least one great local project like this from every major US and Canadian city," said Anthony Oni, Cloverly founder and CEO.
"To this point, carbon markets have looked at offsets basically as interchangeable commodities, which means the only variable the market usually considers is price. We'd like to change that. Our customers are not looking for the cheapest credits. They're looking for projects that have real meaning to them.
"Cloverly's business model breaks down the credits we buy into microunits for neutralizing the carbon impact of even small transactions. That allows fledgling or niche brands as well as everyday consumers to participate in the carbon market and have a positive impact in fighting climate change, regardless of budget. And when the offset projects provide co-benefits for their neighbors, everybody wins."
Adding Up the Co-benefits
Co-benefits are just what they sound like: extra benefits in addition to the reduction, avoidance, or sequestration of carbon emissions. City Forest Credits points out that urban trees cool streets, filter pollutants, provide shade, promote physical activity, and even improve mental health.
The Buena Vista Heights forest also absorbs an estimated 128 million gallons of stormwater a year. "In urbanized areas in Allegheny County, we have significant flooding and flash flooding," said Alyson Fearon, senior director of community conservation and resiliency for Allegheny Land Trust. "So stormwater management is important."
Research has shown that urban green spaces raise property values around them, she said. "You are actually improving your tax base simply by preserving the green space." Plus, who wouldn't want to live near a forest? It provides a great place to hike or bike, puts on seasonal displays of spring flowers and fall foliage, and offers wildlife-watching and hunting.
"We have a lot of hunters in Allegheny County and pretty limited spaces that they are allowed to use," said Fearon. "So we're respecting the full spectrum of individuals that may want to access our properties.
"We're hoping that as we improve the health of the forest with some of the carbon revenue that we may be able to expand the habitat types and bring in more huntable species, and just provide habitat for more species in general."
Carbon credits represent a new revenue stream for the trust. So far, it is marketing credits only for the emissions avoided by keeping the Buena Vista Heights land from being cleared. Potentially, it could also sell additional credits every year based on the amount of carbon that the trees continue to pull out of the air and store in their wood as they grow.
'Excited That Cloverly Is Our First Buyer'
"ALT is excited that Cloverly is our first buyer." said Fearon. "Your mission—what you're using your carbon credits for—is something that we fully support, which is the local benefit and local impacts."
Bluesource's Massie salutes the trust for taking the leap of offering carbon credits. "They took a lot of risk in developing the carbon project," he said, "and incurred a lot of cost." Offset projects must meet strict rules for such factors as "additionality" (meaning that the project would not have happened without the carbon credits, and the credits would not have been created without the project). Following those rules and verifying compliance involves extra trouble and expense.
Massie said Cloverly's purchase of the Buena Vista Heights offsets at $30 apiece, triple the price of a typical offset, could trigger a gush of similar carbon-offsetting efforts. "There are potential projects out there that are bottled up because they don't think they can get that price point for the carbon credits."
Ultimately, he said, battling climate change is going to require an "all of the above" approach. "That's why Cloverly's purchase of the credits is important. It's hopefully a proof of concept that this can work and that there are buyers out there willing to invest in these ultra-small-scale projects.
"Let's do more of these projects and have more great local impacts. We need a million of them, just like we need a million of the big projects. Because it's all going to add up."
Cloverly Carbon Offsets Projects
The Buena Vista Heights Urban Forestry Conservation Area is just one of many carbon offsets and Renewable Energy Credits in the Cloverly portfolio. To learn about the offsetting process, see our How It Works page. For details about the projects themselves and an interactive map, see our Offset Projects page.